Comm center
Head to the large breach on the opposite side and climb out.
Outside Upsilon
Proceed under the pipe.
There is nothing of significance in the Zeppelin Transport area.
There should be four faint red lights in the distance above. Continue in that direction to another light stand that will activate on arrival. It is next to a stack of metal with small blue-white lights.
Continue down the path to the right through a trench past two other light stands that activate on arrival.
There will be an intercom with a data buffer on the right a short distance past the second stand. Optionally listen to it and then continue down the path between the foliage to another light stand.
Warning: a new monster will be encountered shortly, but it is only a mild threat.
This robot is not particularly dangerous and actually seems wary of Simon, staying several feet away as it talks to him. If Simon walks in close to the robot's front, the robot will either knock him out or ascend out of reach, seemingly depending on the location. This monster might not be even capable of landing a deathblow, even if Simon is in bad shape. It can be dealt with here simply by cautiously walking around it while staying out of reach.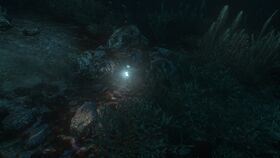 Pass by the robot, keeping at least a couple steps away, and continue to the next light stand. It should stop following before that point.
To the right of the "Upsilon B" sign, there is a small white robot trapped under some rocks. Move the top rock to free it. This robot is non-hostile and will follow you.
Note: There is another of the larger robots to the right of the structure ahead, but this one appears to ignore you. Still, there is no need to enter this area.
At the nearby light stand, continue cautiously past the next Uplison B sign.
Turn left just after and proceed to the next light stand.
Note: There is another large robot past this stand. It seems to ignore Simon as long as he doesn't get close and attempts to evade him if he does. It does not appear to attack.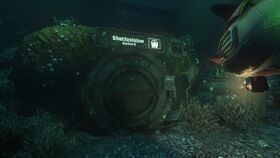 Continue carefully to the next light stand, then turn left.
Proceed along the path to the shuttlestation. Press the open button, wait for the robot's assistance, and then pull open the hatch.
Inside, swipe the omnitool where indicated.